We have many Activities & Things to do in Hua Hin Thailand, we have listed just a few here!
You can find a full list of activities here or search our complete menu above!
Hua Hin Golf is among the best in the world! You can enjoy a day out with family and friends and play the many course regardless of your level of expertise. All courses have caddies and great conditions for you to enjoy a great day out. Book tours for groups or just enjoy out at some of the best international courses available today.
Contact us for information about Hua Hin golf & bookings or View Courses & Book Now!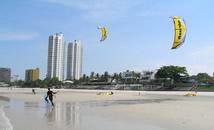 Hua Hin Kite Boarding or KBA center is positioned in a perfect location on the Hua Hin Beach away from the main tourist area, but merely a 20 minute walk into the town center.  You can easily find them by looking for the kite boarders on the beach.
Siam Pearl fleet sails daily to the Sam Roi Yod Natural Marine Park !   'dolphin bay with the pink Irrawaddy dolphins, monkey island, the beautiful scenery of the Sam Roi Yod mountains and islands'  200-B entrance fee is included in the cruise price.
Greenfield Valley: "Imagine your perfect fishing holiday – an anglers paradise of wonderful lakes, plenty of large fish, undisturbed and utterly peaceful fishing in beautiful surroundings, the finest accommodation, European and Thai Cuisine, friendly and relaxing after fishing activities and paradise for all the family as well. You have just imagined Greenfield valley Fishing Resort".
Hua Hin Safari and Adventure Park offers an action packed and relaxing day out for the whole family. The location is situated just a few kilometers from the centre of Hua Hin between Khao Takiab (Soi 97) and Petchkasem Road on Soi # 95 and easy to find with all of the sign posts.  The park includes a variety of fun filled activities such as ATV riding, Elephant Trekking, Snake Show, Horse and Carriage riding and much more.
Mu
ay Thai (Thai Kick Boxing) is what the Thai people call their own martial art. The art of Muay Thai has been the country's most popular spectator sport… It is unique among other kinds of fighting disciplines in its approach to close quarters fighting. Fighters are able to use their elbows, knees, feet and fists more effectively than in other martial arts. You can get lessons and join in at the Hua Hin Grand as well as other locations in Hua Hin.
Hua Hin Spa's Retreats & Hotels are also a big part of  Hua Hin and the surrounding areas. In Khao Kolack  and Pranburi are you can find many boutique style hotels and resorts that offer peace and tranquility accompanied by all the great services such as massage, aromatherapy, hydrotherapy, reflexology, Body Scrubs, Body Wrap, Collagen Facial Treatment, Healthy Spa Meals… AS well as fitness to round off your experience with swimming, Thai Chi, Yoga and many other unique relaxing treatments for your body and soul.
Contact us for information & booking!